Our Staff
Stefani

Technician
Stefani is an Licensed Veterinary Technician and Michigan native who moved to Missoula in October 2018. She has been in the veterinary profession for 10+ years and although she loves all animals, she has a special fondness and adoration for cats! Stefani is passionate about Emergency Medicine and is currently pursuing her Specialty Degree (VTS) in Emergency and Critical Care. When she is not working she enjoys spending time with her husband, Oliver.
Vanessa

Technician
Aliedra (Alie)

Technician
Alie has been working in veterinary medicine since 2014. She continued on to achieve her Certified Veterinary Assistant in 2017, and graduated as a Certified Veterinary Technician in 2019. A few of her professional interests include the human-animal bond, anesthesiology, emergency/critical care, orthopedics, multimodal pain management, and exemplary patient care. Alie's future plans include completing a bachelor's degree as a Veterinary Technologist and specializing in either emergency/critical care medicine, anesthesiology, or both!
Shelby

Technician
Shelby has been working in the veterinary field for the past three years and has experience with small and large animal medicine. She graduated from Pima Medical Institute in January of 2021 and has become a Certified Veterinary Technician. Shelby is interested in becoming a specialist in either equine nursing or emergency critical care. She spends her free time hiking, camping, fishing, and hunting. She has two dogs, a cat, and a leopard gecko at home.
Elizabeth

Technician
Liz is a Missoula native that has just recently returned to the area. She grew up riding horses and showing cattle in 4H. At home she has two rambunctious young sons and a lot of animals to keep her busy. She loves to read, knit, hike and bake in her off time. She also loves to travel and try new things. If you see her out and about with her two dogs, The Old Man and Doug, say hello!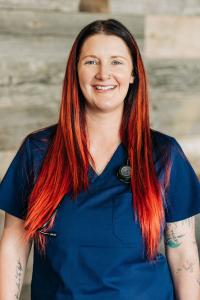 Jodie

Technician
Jodie is a licensed technician & has been working in veterinary medicine for 9 years now. In the veterinary field her passions lie in anesthesiology & surgery. Jodie loves to get out & adventure with her dogs, ride dirt bikes with her husband, & spend time with friends.
Megan

Technician
Megan was born and raised in southwest Montana where she found her passion for science and animal care at a young age. She started her pursuit of animal care, knowledge, and eventually leadership in 4-H.
Megan's veterinary career began in Montana in 2007 as a kennel assistant and quickly evolved into a veterinary assistant. As her knowledge grew, so did her newfound love of veterinary medicine. After three years of working in a mixed animal practice, Megan moved to Colorado to further her education in veterinary medicine.
Megan graduated from Pima Medical Institute in 2014 and was certified as a veterinary technician soon after. That same year, Megan found her niche in the veterinary world- Emergency and Critical Care and cannot imagine doing anything else, she worked in Colorado in Emergency and Critical even since.
Her passion of emergency and critical care is vast, yet she truly enjoys the stabilization and long-term care of critically ill patients with focuses in shock, sepsis, electrolyte disorders and CPR. Megan joined our team at Sentinel Veterinary Specialists and Emergency spring of 2022.
When not at work or geeking out in a vet-med book, Megan can be found spending time with her two dogs and cat. She enjoys black and white photography, nights in the yard around the fire pit, playing in the mountains, and a good game night- whether that is cards, a board game, or Nintendo (old and new!).
Kasey

Critical Care Technician
Arianne

Assistant
Candace

Assistant
Chesney

CSC/Assistant
Chesney grew up in western Washington and attended college at Oregon State University where she quickly learned she wanted to work with animals, specifically cattle and horses. She bounced around working at various cattle ranches where she met her husband. She and her husband married in Montana where they now have three children. They feel at home here with their "herd" of dogs and kids!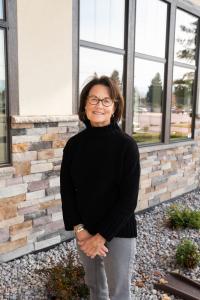 Kate

CSC
Kate has worked coordinating care for both humans and dogs for many years now. After retiring from a successful career in healthcare & human services, she's enjoyed the fast pace at Sentinel Veterinary. As a passionate animal lover - ask her about her dogs! She loves getting to meet new and returning clients every day. When Kate isn't at work, she's spending time outside hiking and walking with her Corgi, Bart, and teaching her grandsons how to have fun!
Kaytlin

CSC
Kaytlin is a Hellgate High Graduate, born and raised in Missoula Montana. She received her Certificate of Completion for Veterinary Assistant from Helena College of Montana online course. Kaytlin has always had a love of animals, especially dogs. She hardly ever passes a dog without stopping and petting it. (With permission of course). She helped deliver puppies from her mama dog and that is really where the passion of wanting to work in the veterinary field came about. She kept one of the puppies as her own that she helped deliver. So, if you ever hear Kaytlin talk about Marley, he is her "big handsome boy" that is spoiled rotten with so much love and attention. She is very excited to work for Sentinel Veterinary and see all the animals and visit with the clients, and especially learning so much about animals. When Kaytlin is not at work, she is out camping, riding horses or just hanging out with her boyfriend "Trevor" and best friend "Marley".