Our Staff
Aliedra (Alie) Norris

Technician
Alie has been working in veterinary medicine since 2014. She continued on to achieve her Certified Veterinary Assistant in 2017, and graduated as a Certified Veterinary Technician in 2019. A few of her professional interests include the human-animal bond, anesthesiology, emergency/critical care, orthopedics, multimodal pain management, and exemplary patient care. Alie's future plans include completing a bachelor's degree as a Veterinary Technologist and specializing in either emergency/critical care medicine, anesthesiology, or both!
Ciara Gentry

Technician
Ciara has been working as a technician for four years. She started in the field back home in western Washington in general practice then switched over to emergency medicine here in Missoula during September 2019. She has three of her best friends here with her– her border collie mix, Maya, her cat, Onyx, and her paint horse, Stratus.
Shelby Meader

Technician
Shelby has been working in the veterinary field close to three years now. She has experience with small and large animal medicine. She graduated from Pima Medical Institute in January of 2021 and has become a Certified Veterinary Technician. Shelby has an interest in becoming a specialist in either equine nursing or emergency critical care. She spends her free time hiking, camping, fishing, and hunting. She has two dogs, a cat, and a leopard gecko at home.
Shellina Meixner

Technician
Shellina started her career in veterinary medicine when she left Montana and moved to Texas. She returned to Montana in November 2019 and now has nearly 10 years of experience in the veterinary field. She is particularly interested in equine medicine and emergency and critical care. Shellina enjoys riding horses or spending time outdoors with her two dogs Pandora and Zodiac when not at work.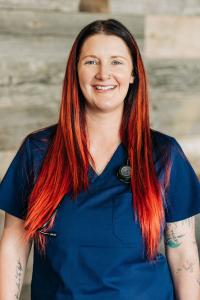 Jodie Stelling

Technician
Jodie is a licensed technician & has been working in veterinary medicine for 9 years now. In the veterinary field her passions lie in anesthesiology & surgery. Jodie loves to get out & adventure with her dogs, ride dirt bikes with her husband, & spend time with friends.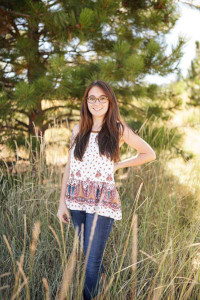 Sigourney Tuttle

Technician
Sigourney graduated tech school in Spring of 2020 and moved to Montana to pursue her bachelors degree in Animal Science. Growing up she was involved in 4-H. She has a 14 year old cat named Smudge. She is interested in large animal medicine, emergency, and cardiology. In her free time she likes going outside as much as possible and trying new things.