Canine Hip Dysplasia Diagnosis and Treatment Options
Hip dysplasia is an inherited, developmental condition that causes increased laxity of the hip joint.
It is one of the most common orthopedic abnormalities in young giant and large breeds, although all breeds can be affected. The exact cause of hip dysplasia is not known, but genetics, rapid growth, excessive nutrition, and diminished muscle mass have all been linked to increased severity of hip dysplasia. Affected dogs are born with normal hips, but a lack of conformity between the femur and acetabular cup develops, which invariably leads to arthritis.
---
Diagnosis
Early warning signs of hip dysplasia in puppies include inactivity or a reluctance to play. Clinical signs, such as excessive laxity, may become apparent when a dog is between 6 and 12 months old. Once a dog with hip dysplasia is 3 years old, arthritis becomes more severe. We base our diagnosis on both a physical examination to check for laxity or pain in the hips, and x-rays. We combine standard hip-extended radiograph views with distraction views to give us the most information. We recommend screenings at 4 months of age on any large breed dogs by their primary care veterinarians.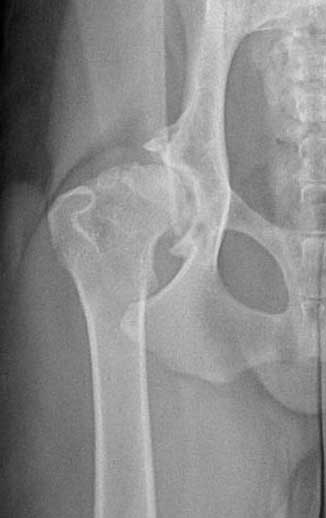 Treatments
We offer many treatment options for hip dysplasia, which we will customize based upon severity of symptoms, age at presentation, client expectations, and financial considerations.
Medical Management—The most conservative approach involves medical management, such as weight loss, controlled activity, and non-steroidal anti-inflammatory drugs or nutraceuticals (glucosamine, chondroitin sulfate). Your family veterinarian can suggest which is best suited for your pet's needs. Medical management can't reverse arthritis, but it may slow the progression and provide pain relief.
Double Pelvic Osteotomy (DPO)—Young dogs from 6- to 18-months old without significant arthritis are candidates for double pelvic osteotomy (DPO). During a DPO procedure, we make two cuts in the bones of the pelvis, then rotate and plate a section of the pelvis. This improves femoral head coverage to decrease pain and slow the progression of arthritis. Long-term evaluation of dogs after DPO surgery shows excellent results.
Symphysiodesis—Very young dogs from 15 to 20 weeks of age with no radiographic signs of arthritis are candidates for symphysiodesis, a surgical technique that closes the growth plate on the floor of the pelvis to increase femoral head coverage. Symphysiodesis is a minimally invasive technique that can be performed relatively quickly and involves no surgical implants.
Femoral Head and Neck Ostectomy (FHO)—FHO is a procedure that eliminates the source of hip dysplasia pain by removing the bone of the femoral head. Small dogs and cats are better candidates for FHO than large or giant breed dogs, which typically have prolonged recovery times and variable outcomes. Gait abnormalities may occur following FHO, so post-operative physical therapy is critical.
Total Hip Replacement (THR)—A total hip replacement using the implantation of a prosthetic hip has been well established in veterinary medicine since the 1970s. We perform both cemented and cementless procedures for dogs, and your Sentinel Veterinary Specialists & Emergency surgeon will suggest the best option for your pet. THR is often the best choice for dogs with severe hip problems. Ideal candidates are over 8 months old and have no systemic illnesses. Hip dysplasia typically affects both hips, but we perform THR on only one hip at a time, treating the most painful hip first. Often, treating only one hip can achieve acceptable function. If pain continues, we can perform a second THR a minimum of two months after the first.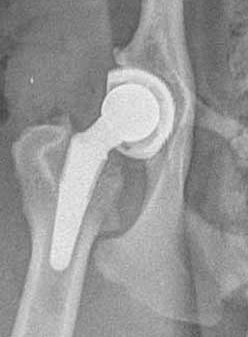 As with any surgery, complications can occur with THR and include infection, implant failure, and femur fractures. These complications combined occur in less than 10 percent of patients, thanks to continued improvements in implant design and technique. Full recovery from THR takes about eight weeks. Many dogs are able to walk on the affected leg the day after surgery. The success rate of THR is excellent: 90-95 percent of dogs have normal use of the affected limb after surgery.
If you are a referring veterinarian and would like to learn more about our hip dysplasia diagnostic and treatment options, please call (406) 218‑2800.